I don't usually post reviews here, but in order to make the people who are not PatternReview readers happy, I will start.
There are no photos of the #1 top - the brown one. It is nice - Really! If you do not yet have this pattern - stop here and order it NOW! I know there are a myriad of reviews for this top, but wanted to add my 2cents (Canadian).
Pattern Description:
Close-fitting, pullover, wrap top with gathered waistline detail and sleeve variations
Pattern Sizing:
XS to XL. I made a Small and tapered to Medium at the hip.
Did it look like the photo/drawing on the pattern envelope once you were done sewing with it?
OMgoodness - yes! I actually hugged myself I loved it so much!
Were the instructions easy to follow?
Easy as pie! I actually used them as I wanted to know if they made sense. They did!
What did you particularly like or dislike about the pattern?
I love that it fit me right out of the envelope. The neckline hugs just as it should and is low but not too low.
I can see that a few more situps are in order - get thyself to the gym more often Connie- but I think a medium would have ended up too large in the bust area. A note to the very tiny people here- I am not a small boned person and I used a small- I think even the XS may be too large for my daughters who wear a RTW 4. I have the feeling that I am going to find out though!

Fabric Used:
I've made this top 3 times now.
#1
was a luscious thin chocolate brown knit that I either got from EOS or Wazoodle. I think it was EOS. I wish my fabric stash was organized! (in fact I really should just make that a priority as I just discovered that I have 2 identical green linen pieces of fabric - both purchased recently for pants- I do not remember buying EITHER!)
#2
was a cool geometric print from EOS
#3
a lovely graphic knit from Metro Textiles in NYC. This must be my personal best in the "NYC purchase to garment" category! I have Christine Jonsons wrap dress cut out in this fabric already as well!

Pattern Alterations or any design changes you made:
#1
In order to make the neckline a bit more interesting, I added some elastic with a very pretty picot edge. As well as looking "pretty" it helped to keep the neckline tight. I turned the neck edge under and hand basted (I do like hand basting) then topstitched the elastic on with 2 rows of stitching. I am embarrassed to say that I looked at my new coverstitch machine while I used my sewing machine to sew the elastic on- I am still not as confident with it as I should be mainly because I would rather sew than practice - bad Connie - practice makes perfect. I make the excuse that I wanted to get something actually SEWN, as there has not been much time for that lately.
The Two New Tops


#2

was made straight from the pattern with no alterations.
#3

I trimmed the neck edge with some black very very narrow fold over elastic. I got this last year in NYC at MJ Trims (I think!) I serged the edge first, then hand basted both sides on individually. Very finickity but well worth it in the end. Oh I almost forgot to mention that I coverstitched this baby - Yeah finally made friends with the machine! Looking closer I can see that my grain line was off a bit- I was pretty careful so I may check the grain line on the pattern piece next time.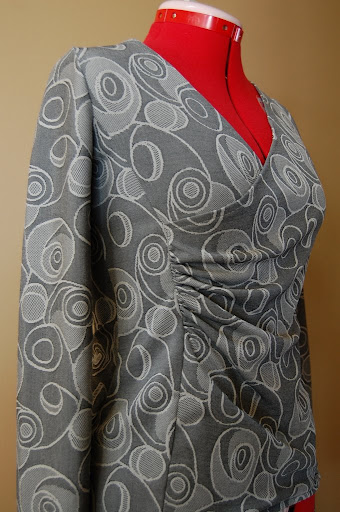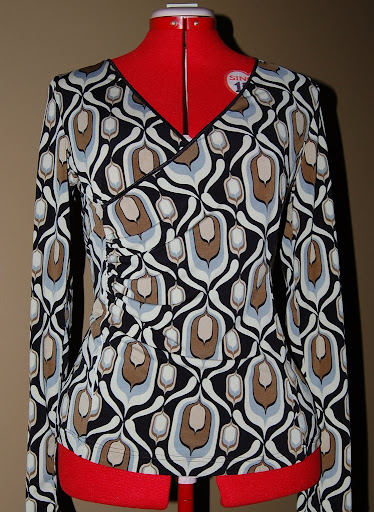 Would you sew it again? Would you recommend it to others? Oh yes! I love, love, love this pattern! Easy and looks good too!
It took about 2 hours from start to finish. Did I mention that I think this pattern is wonderful?

Conclusion: Fast, easy to put together and looks fantastic on so many body types! This was just the pattern I needed to shoot me out of my sewing slump!